Planning and implementing fossil fuel phaseout – Read all about the final conference!
6 November 2023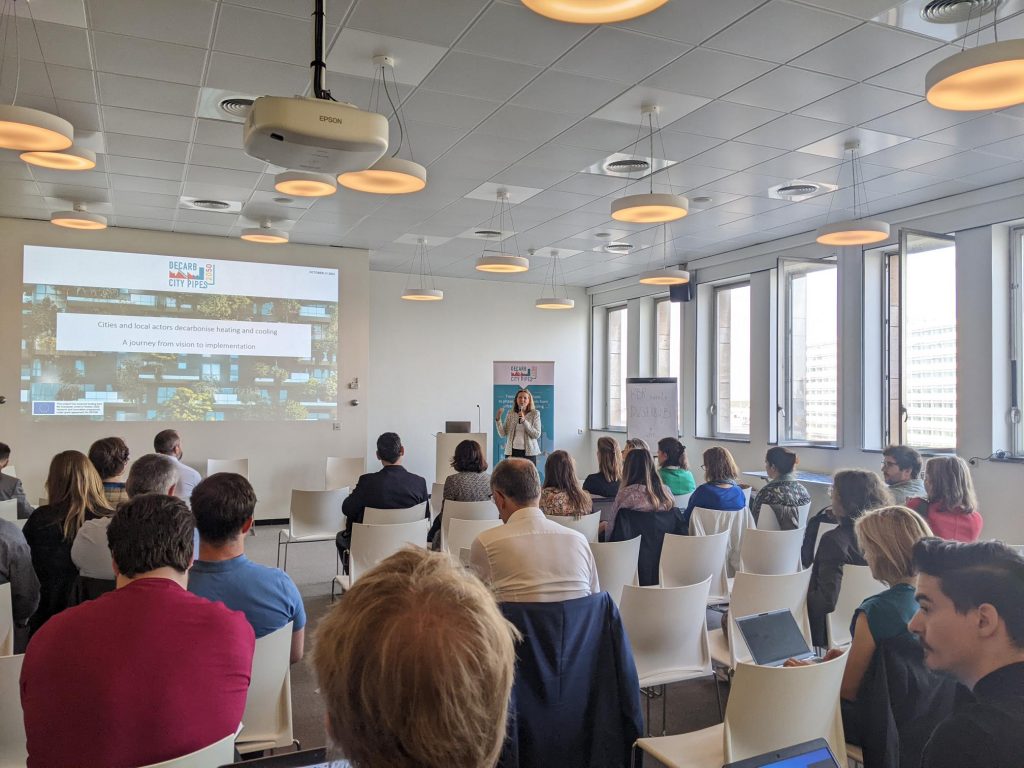 The Decarb City Pipes 2050's final conference took place on Wednesday 11th of October, in Brussels. It was a showcase of lessons learnt and a space for engaging in discussions with European stakeholders on both measures and policies to accelerate the decarbonisation of city pipes.
HEAT PLANNING IS NOT AN END BUT A MEANS TO DECARBONISATION
During the conference, the cities of Bratislava, Winterthur, Rotterdam, Bilbao, Dublin, Munich, and Vienna came together to highlight the success factors and challenges they identified in the development and implementation of their transition roadmap.
The cities presented an overview on how they got through the three different stages of the project: defining a common vision, planning to determine which technology was the best fit where, and drafting of a concrete roadmap, including policy recommendations, for its implementation.
But the transition does not stop at heat planning: whatever is planned needs to be enforced.
IMPLEMENTATION REQUIRES FRAMEWORK CHANGES TO ENSURE AN EFFICIENT AND FAIR TRANSITION
A series of structural changes are needed to support cities in their decarbonisation process. Partner cities and energy experts pointed to a number of requirements, such as the enforcement of obligations for grid operators for integrated planning of energy infrastructures as well as the importance of creating legal possibilities to enforce communal energy zoning planning.
Two measures are considered as fundamental to start phasing out fossil fuels: to restrict or even ban boilers and to remove legal obligations to connect buildings to gas networks. The city of Winterthur showcased how the change of legal framework was a key enabler for them: since the referendum of November 2021, the replacement of an oil or gas boiler is forbidden for existing buildings in the canton of Zurich, if the life cycle costs of the decarbonised heating alternatives are not more than 5% higher compared with a fossil energy-based heating.
To ensure the efficiency of such structural changes, however, cities need data and guidelines for modelling, human capital, and of course, sufficient economic incentives and subsidies. Professor Dr. Jochen Monstadt rightly lamented the limited market mechanisms available to incentivise local investments. Instruments of transition are as important as the roadmaps themselves.
DO NOT UNDERESTIMATE THE POWER OF PUBLIC ENGAGEMENT
During the conference, speakers highlighted the need to communicate the benefits and timeline of the transition to citizens properly, to make sure they are on board.
People need safe and secure understanding on what is at stake, the costs, what are the alternatives, and what are their benefits. If this message is not delivered, politicians' (trust) will be severely damaged.

Andris Piebalgs, Professor, Florence School of Regulation
Benefits for citizens are many, and cities especially agree on the profitability of such investments. The participating cities gave examples of alternative heating solutions and renovations that are cheaper in the long run, while also recognising that it takes time and effort to clear up misunderstandings.
In Winterthur for instance, heat pumps users saw their monthly energy bill drop from 400CHF to around 100 CHF.
Another clear advantage of local renewable energies is simply the improved security of supply. When the Russia attacked Ukraine in February 2022, less than two years ago, many Austrians feared not having heating during the next winter, because of the 80% dependence of Russian gas.
IT'S TIME FOR TECHNOLOGICAL CLARITY
The process of decarbonising heating systems is a lengthy one, one that needs to be started as soon as possible, everywhere. European cities can now draw inspiration from the roadmaps of the Decarb City Pipes 2050 project.
Still, there are divisive issues in this race against time. At the conference, Christine Kugler, head of Department of Climate Change and Environment at the city of Munich, stated that now it is the time for technological clarity, not technological neutrality.
Green gas is not an option. We need clear political commitments and clear parameters at the European level.

Mr Czernohorszky, Executive City Councillor for Climate, Environment, Democracy and Personnel, City of Vienna
Hydrogen and green gases are and will be scarce resources; according to the cities in this project, they shouldn't be used for heating. It would help that the European Commission provided clear guidelines to Member States on how best to use these energies (for industrial processes, or grid balancing for instance). The debates around hydrogen and green gases in heating often act as a distraction, delaying the switch to already available decarbonised technologies like heat pumps or district heating.
Although the Gas Package will support the development of hydrogen infrastructure and the development of renewable gases, the on-going negotiations won't, most likely, force transmission and distribution grid operators to make integrated power, hydrogen and gas grid planning. This would be a missed opportunity to achieve sector coupling and reduce the costs of decarbonisation of the energy system. Hopefully Member States will voluntarily do this planning exercise, as it is key to inform local heating plans of municipalities.
Want to dig into the topic?
The Decarb City Pipes 2050 project has delivered on the documentation of many good practices that can inspire not only any city, but policy makers as well. Decarbonisation of urban heating systems is not easy, but it is feasible and beneficial for all. National and European policy makers have the power and responsibility to support and foster such transformation.
By Selma Guyon.